Not Really a Star F#*ker
By Kate Flannery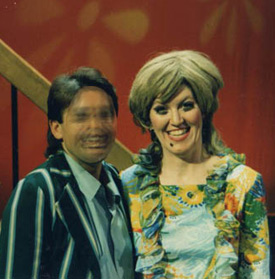 It's not really star fucking if you know that the star is washed up and not going to do anything for your career. Right?

In 1993, I was playing the part of Alice in the show The Real Live Brady Bunch. Audiences would line up around the block to see us dress up and reenact actual scripts of the '70s TV show on stage.
I was 28, and profoundly heartbroken over a guy named Doug. So when they asked me to join the national Brady Bunch tour, going to over 30 cities in a year, I said yes.

What happened that year wasn't star fucking.

That year I had sex with a Pop Star. He was a member of the fab four named after simians, let's just call them "The Chimps." I had sex with a Chimp. One of the Chimps and I had sex. It wasn't the drummer. It wasn't the goofy one and it wasn't the one with the red knit-hat, but I don't want to say which one it was.
When the British Chimp decided to join our tour to reenact his Brady Bunch performance from 25 years before, the cult status of our show hit a new level of "what the hell?!" We were performing reruns with the real guy in the rerun.

It was like an acid trip and some days like a cruise ship. The tour went like this: We'd check into a hotel, do the show in a 1,500 seat auditorium for two nights, drive all that night, sleeping on a rock 'n roll bus once owned by the Allman Brothers, with a golden sunset and palm trees airbrushed on it, then arrive in a new city the next morning just in time to do the local morning TV or radio shows.
We had great chemistry, me and the former Chimp. I'd end each of our interviews pointing at him, looking in the camera and saying, "It doesn't get any better than this!"

On the tour bus there were 10 cast members, a director, a driver and a Chimp. (The bus wasn't the only thing that had seen better days.)

The first time he kissed me was on the Detroit morning news. I was dressed in my Carol Brady wig and flowered polyester pantsuit.
It's not star fucking if the star comes after you.

The cast members noticed he liked me when they saw him carrying my tray from the salad bar to the table at Shoney's, or the truck stop. I'd protest, "He doesn't like me, it's just the English-Irish thing." (My dad owned an Irish bar. He drank in English bars.) But I made him laugh. And he made me giddy.

After a week of sexual tension, and late night drinks, the Pop Star made his move on me at the Quality Inn in Bloomington, IN. The next morning I woke up to the sound of his guitar strumming at the foot of the bed. He looked at me and said, "I feel inspired." Then he sang, "I'll love you this year, I'll love you next year, I'll love you forever." Well, I could hardly breathe. I couldn't believe that one of "The Chimps" was singing to me. I was blown away. He was so charming and so sweet and I felt so special. How many girls had dreamed of this moment? I had watched reruns of his TV show in the 2nd grade. My inner seven-year-old was thrilled!

During every show I'd help him on with his jacket in the dark, backstage, before his big scene. I watched him strut onstage and sing, "Girl, Look What You've Done to Me" every night. He'd always catch my eye and wink at me in the middle of the finale. He could eat dinner with any woman in the world, but he chose to eat with me, sometimes. Often I'd offer to pay, just to keep it in check. (I had women studies classes in college in the late '80s.) He bought me a choker that matched the Indian outfit he bought himself (to crack up his drinking buddies at the pub in England.)
In Flint, MI in the throws of passion the Chimp sang in my ear, "Here we cum…" That was pretty cool. I got to hang out with him in his dressing room while he autographed 8 X 10s of himself wearing a lavender leather vest, and a David Lee Roth mullet. He couldn't remember the name of this fan who had seen him perform 22 times that year, so he just wrote "To M'lady, I love ya!" And I got to hear all his private personal stories before he'd repeat them to everyone else on the bus the next day.
continued...
PAGE 1 2


-friendly version for easy reading
©All material is copyrighted and cannot be reproduced without permission