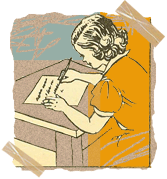 A note from your FRESH YARN host and editor, HILLARY CARLIP...
As a writer and performer deeply immersed in the art of the personal narrative essay, in 2004 it became apparent to me that there was a vital sub-culture of amazing talent engaged in this emerging genre. Writers in varied fields -- television, film, journalism, fiction -- as well as directors, producers, artists, performers and personalities, were all being drawn to telling their true stories through personal essays.
I was amazed at the pieces I heard read at live spoken-word venues where I performed. Places in Los Angeles like the Un-Cabaret's "Say the Word," and Jill Soloway's "Sit 'n Spin" at Comedy Central's theatre space, exist across the country and have become successful hot-spots.
While there are also excellent literary outlets in print and online, I found that personal essays are not the focus. Typically they're buried amongst fiction, poetry, reviews and articles. There was no home, print publication or website, dedicated to this important genre.
Until FRESH YARN…
From the moment word about FRESH YARN got out, we were overwhelmed by the enthusiastic response from leading talent from across the literary/theatrical spectrum. As FRESH YARN'S birth-mother, host and editor, it has been my pleasure to curate an interesting, diverse collection of work written by a variety of very cool contributors.
I started presenting six new essays every two weeks. Over the years, as one more, then another, of my books got published, keeping me quite busy, not to mention the thriving web design business I've had since 2001, essays were presented less frequently. But hundreds and hundreds of authentic stories have been featured.
My mission has been to elevate the art form of the personal essay, and to promote the voices kicking it into higher gear. It is also to continue to build the community of listeners and readers who are the real reason this genre has been coming to the fore.


FRESH YARN: Bringing fresh personal essays to you since 2004!